O'Halloran and O'Brien handle serious cost savings
OHOB's vision for training and workforce development is one of the most ambitious of any contractor working across the construction sector.
Incorporated in 1972 O'Halloran and O'Brien has evolved from a small groundworks company to a multi-disciplined major contractor. Working in partnership with our sister company's B&T Plant Hire and Riverdale Developments Ltd we take pride in our product and reputation.
The company is built on the principle of delivering a quality product to our clients and maintaining a high level of client satisfaction. It has grown over the years through repeat business, achieved by understanding the needs of the client and delivery to the required high standard.

The company's vision for training and workforce development is one of the most ambitious of any contractor working across our sector. OHOB seek to exceed industry minimum standards and up-skill our operative base beyond that of their clients' expectations. Their commitment to training is the bedrock of our business and builds on our strong foundations to deliver a safe, competent and qualified workforce for the future.
Handling a serious issue
OHOB initially identified the need to train and retrain staff in the important area of manual handling, which is the number one cause of injury-related absences over seven days in the construction industry. According to H&SE, lifting and handling items accounts for over one fifth of all workplace injuries with just over 100,000 incidents in the 2016/17 reporting period.
The company recognises that regular training in a range of topics, coupled with site specific safety awareness campaigns are essential to ensure the wellbeing of the workforce. Efficiency, effectiveness and consistency of delivery is of vital importance with over 2000 operatives working throughout London and the South of England on over 100 different site locations.
A further generic construction issue is volatilities in labour, this is caused by variations in demand, the transient nature of construction workers and intercompany redeployments. Arranging ad-hoc training for 5 new recruits is ok on a single site, but combine these issues, spread across Southern England can be time and resource consuming and expensive.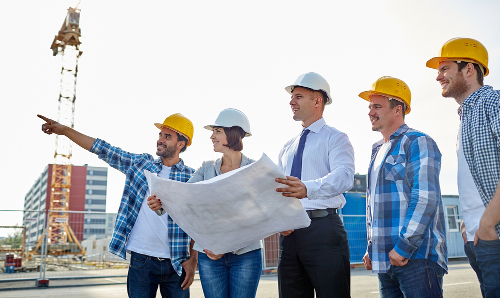 Separately and in addition to providing suitable training OHOB also sought to formally recognise the training delivery. Accredited training has greater transferability for the company, the individual and across the construction industry. Delivering, capturing and reporting accreditation of assessments can be difficult with in excess of 2000 operatives across over 100 different site locations!
"The combination of online learning and The Digital College's 'Can-Do' attitude has made a challenging issue very straightforward. On top of this we are saving money as a business!"
Tracy Botley,
Learning and Development Manager
The Digital training solution
The Digital College were able to work with OHOB to provide a web-based training and assessment solution for an officially accredited Manual Handling course. The bulk of candidates on each site were quickly processed in batches through the use of inexpensive mobile-data enabled tablets. Results and certificates were immediately emailed to the training team.
Once these tablets had moved to the next site, any missed or new employees could be quickly trained through an onsite laptop.
The results
OHOB recognise that they have delivered the following significant benefits to the business:
- Rapid comprehensive training deployment. Typically 80-90% site completion within a week! - 81% less time spent away from work during training. That could be over £4,000 saving for a site of 40 workers for just one course. - A reduction in time off work and compensation claims due to handling related injuries. - Workers enjoying safer careers. In the words of one site manager "I have my kids and relatives going into construction. I don't want them getting injured."
Want to learn more about how The Digital College can help your organisation? See Online training for the construction sector